leave it up to me to obsess about the design of the smallest corner of our home.
but since it'll be our main entrance once our garage is built... it
musn't
be left out, right?
remember this post here?
well, our
mini mudroom
has gone through another transformation... mostly thanks to my keen mother-in-law's design ideas & my
pickiness
.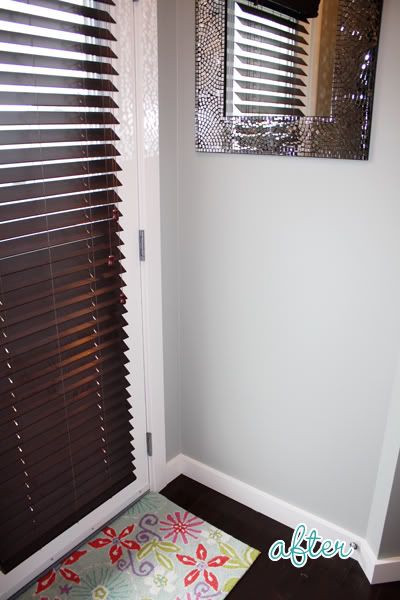 things i changed.
the tacky wire shelf has gone bye-bye. in it's place, two glossy
ekby
tony shelves with
ekby
bjarnum
brackets from
ikea
.
swapped my larger wicker baskets for some smaller ones i had
kickin
' in our basement.
say hello to
ikea's
portis
coat rack. transformed to a yummy grape color after five coats of
martha
stewart's
grape jelly paint.
a stunning new mosaic mirror found for only $34 at
homesense
.
gorgeous black & white wallpaper found at home depot. by far my favorite element of the little room as it shares the characteristics of the rest of our main floor.
things to do.
discover something cute for the second
shelf's
vacancy.
incorporate some black & white prints from our session with
michelle

wells
.
maybe... just maybe, change the knobs on our
hemnes
shoe cabinet to give it a little more character...