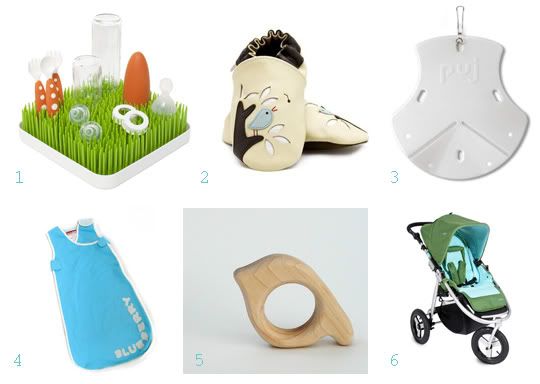 even in 2.5 short years since our first, baby gear has changed, evolved, improved, and for this indecisive mama, making decisions on gear has proven to be difficult. we're trying to go green where we can, reusing items from our first little one, borrowing from others, or purchasing eco-friendly products. And some, well they're just too awesome not to have!
here are a few of our recent picks.
1. boon grass drying rack.
the boon grass drying rack is completely functional & it'll look super cute sitting by my sink! it allows air to circulate into bottles, nipples, caps, & cups etc. and lets them dry completely.
2. bugaloo leather shoes.
i ordered a couple pairs of bugaloo's soft sole leather baby shoes. i was lucky to nab them during their spring sale at only $13.99 a pair! i love their unique designs.
3. puj tub.
i'm excited to try the puj tub... it's super soft flexible material wraps around baby's delicate body, protecting their skin from any cold surface, and it keeps them insulated and warm.
4. immature sleep sack.
i loved putting our first little one in her sleepsack for a safe, cozy night's sleep. we picked up one of these adorable organic blueberry sleepsacks by immature. it's super soft & super cute.
5. little sapling toys.
i have my eye in a few goodies from little sapling toys. their beautiful organic wooden toys are perfect for teething and grasping... safe and they'll last forever.
6. bumbleride indie.
we learned the hard way after our first... going through a plethora of strollers, never really finding one we truly loved. we chose the bumbleride indie in seagrass. perfect for tall parents that have to brave the snowy elements. the carry cot will be perfect for the first months, and will double as a cot in our home as well. plus, how cute are the colors!?
do you have a favorite must-have?