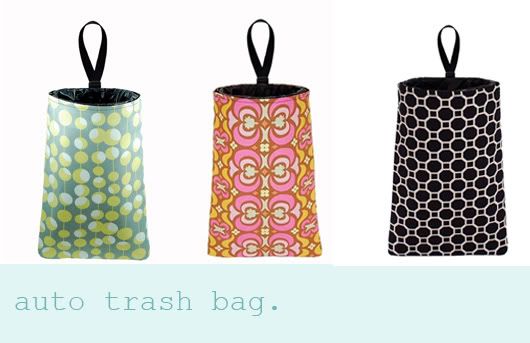 with a toddler riding in the back, there always seems to be an abundance of trash lingering in my truck... lonely goldfish crackers, wrapers from rice crackers, you name it.
i first learned of the
mod mobile's etsy shoppe
from another one of my fave blogs,
monpetitamour
. the
mod mobile's etsy shoppe
offers
a huge collection of auto trash bags
, a functional and cute way to stow away the everyday trash and it's essential for road trips!
we've been using ours for nearly three months now and we love it!
it's well-crafted, durable and surprisingly holds a lot of icky! it came along with a roll of bags as well, but we've only swapped the bag a couple of times. my daughter loves it too, and each time we park, she makes sure she tosses everything she can find in the bag!
i definitely recommend this product for helping to keep your auto tidy!
visit the mod mobile's etsy shoppe