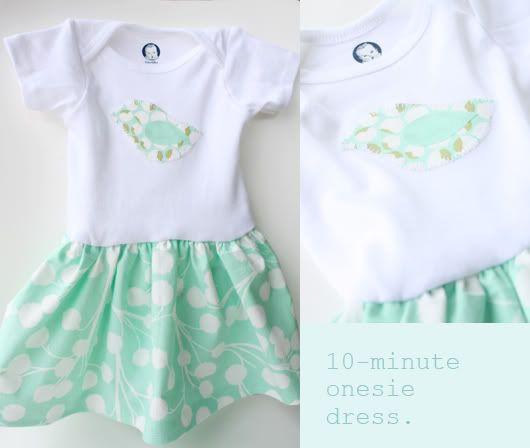 nesting is in full force.
we're somewhat unsettled in our current place, waiting for possession of our new home in early july. but, i couldn't wait any longer. i dusted off the sewing machine and out came the crafting boxes...
i originally spotted this
10-minute onesie dress project & tutorial
on one of my favorite sites,
prudent baby
. i thought i'd give it a whirl and LOVE the result!
it's a great way to spruce up a plain onesie and make use of those scrap fabrics. i designed my own little birdie applique for the top of the dress. i can't wait to make a few more!
things i learned.
start big.
i should have chosen a 12 mos+ sized onesie for my first project. working with the itty bitty 3-6 mos size was a little taxing.
measure twice. cut once.
now i know why that should be rule of thumb. ensure you have plenty of fabric to start with for the skirt for enough pleat.
{fabric: joel dewberry chestnut hill}