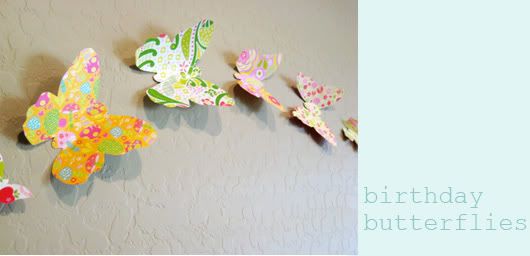 I love hosting parties... most of all I love decorating for parties!
Here's a quick, simple, and inexpensive idea for party decor for an upcoming celebration. The theme for my daughter's first birthday was a
garden party
and the inspiration blossomed from a paper stack I fell in love with at a local craft store. The colors and patterns were so bright and cheerful!
100 paper butterflies
were hand-cut in a variety of sizes from an assortment of papers using my butterfly silhouettes template. After gently folding a crease in the butterfly's belly, I used blue painter's tape to attach the butterflies to the wall - having them trail along from our entrance to the back patio. I also added a few to chair backs and serving dishes. Something so simple and small goes a long way!
the template.